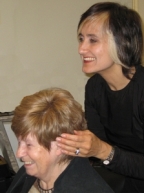 Upon arrival, the vacuum fit hair prosthesis is ready for cutting and styling.
These wigs act as natural hair, and we try to use and encourage the use of gentle and conditioning styling products.
We recommend you wash your wig every 7 to 10 days and at the salon we can provide you with the best products to help look after your wig.
With proper care and maintenance, the life expectancy of the hairpiece is 2 to 3 years.
Our Freedom Wigs are guaranteed against defective workmanship for a period of 6 months following delivery. Normal repairs can be expected after the first year.
To help us achieve your preferred style, you may also opt to have some foil highlights, body and or curl added to your new hair.
You can expect to receive your Freedom Hair Wig approximately 4 months after your order is placed.